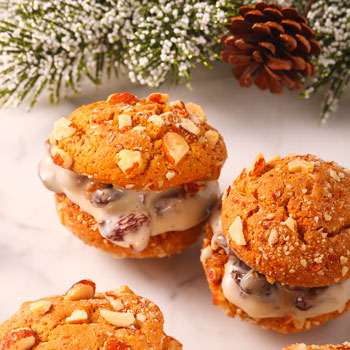 Mile-High Almond Ginger Sandwich Cookies with Marinated Rum Raisin Filling
This recipe was adapted from Camille Fernandez-Lopez.
INGREDIENTS
Marinated Rum Raisins
2

cups

California raisins

1/4 cup

sugar

1/4 cup

dark rum

1

tablespoon

Madagascar Bourbon Pure Vanilla Extract
Almond Ginger Sandwich Cookies
2

cups

cake flour

King Arthur Brand preferred
1 1/2 teaspoons

baking soda

1

teaspoon

baking powder

1

teaspoon

ground cinnamon

3/4 teaspoon

ground ginger

1/2 teaspoon

salt

1/2 cup

butter, at room temperature

Plugra brand preferred
1/2 cup

sugar

1/2 cup

brown sugar

2

eggs, room temperature

1

teaspoon

almond extract

1

teaspoon

Madagascar Bourbon Pure Vanilla Extract

1/2 cup

almonds, finely ground
Rum Raisin Filling
8

ounce

package cream cheese, room temperature

3

cups

confectioner's sugar

1

teaspoon

Madagascar Bourbon Pure Vanilla Extract

6

tablespoons

marinated rum raisins, drained
PROCEDURE
Marinated Rum Raisins
Place all ingredients, except vanilla in a small pot.  Turn to medium heat and cook until thick and volume has been reduced by 50 percent.  When mixture reaches desired consistency, remove from heat and add the vanilla extract.  Transfer the marinated rum raisins to an air tight container and store in the cooler for a least a day to let flavors mature.
Mile-High Ginger Almond Cookies
Prepare 3 baking  sheets with parchment paper.  Sift together flour, baking soda, baking powder, cinnamon, ground ginger, and salt.  Add the ground almonds. Cream together the butter and both sugars.  Once well incorporated, add the eggs one at a time.  Add the Madagascar Bourbon Pure Vanilla Extract and almond extract.  Add dry ingredients to wet ingredients little by little.  Let the batter rest in the refrigerator for an hour.  While the batter is resting make the rum raisin  filling.*
Make one inch rounds of cookie batter, roll each round in crushed almonds and place on baking pan.  Bake cookies at 350ºF for 8 to 10 minutes.  Transfer to rack and let cool.  Once the cookies have cooled, spread rum raisin filling* onto halves and then top them with second cookie to make a sandwich.
*Rum Raisin Filling
Sift confectioner's sugar and add to cream cheese.  Cream these two ingredients well.  Once smooth and creamy, add marinated Rum Raisins, drained.  Blend well by hand and let set in air tight container in cooler.
This recipe is found in the following categories:
(No Ratings Yet)
Loading...
Comment on the Recipe
Comments may be moderated. If you don't see your comment, please be patient. It may be posted soon. Do not post your comment a second time. Thank you.