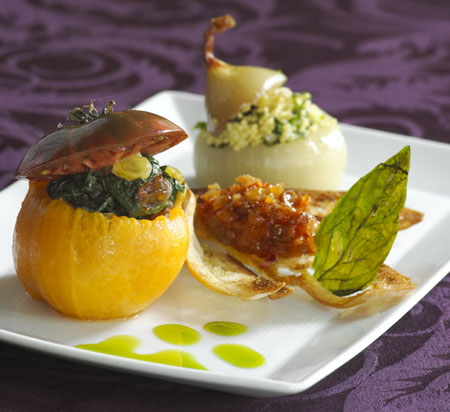 Maui Onions Stuffed with Curried Raisin Couscous
Submitted by:
Roland Passot
Couscous and raisins in sweet Maui onions topped with tomato-raisin marmalade.
INGREDIENTS
Maui Onions
4

Maui onions

1

tablespoon

olive oil

Salt and pepper; to taste

2

garlic cloves, peeled

1

teaspoon

chopped fresh thyme

1

teaspoon

chopped fresh rosemary
Couscous
1/2 cup

instant couscous

2

tablespoons

California golden raisins

1/2 cup

water

1

teaspoon

curry powder

3/4 cup

red onion, peeled and seeded cucumber and scallions; all diced and mixed together

Juice of 1/2 lemon

2 1/2 tablespoons

olive oil

1

tablespoon

cilantro, roughly chopped

1

tablespoon

mint, roughly chopped

1

teaspoon

harissa or Tabasco sauce

Salt and pepper; to taste
Tomato Raisin Marmalade
1 1/2 cups

chopped Maui onions

1/4 cup

extra virgin olive oil

3

cups

red vine-ripe tomatoes (Heirloom, if possible); diced, peeled and seeded

5

tablespoons

granulated sugar

1

bay leaf

1/2 cup

California golden raisins

1/2 cup

California natural raisins

Zest of 3 oranges

1/2 cup

champagne or rice wine vinegar

1/2 teaspoon

Fresh ground pepper
PROCEDURE
Maui onions
Remove about 1/3 from top of each onion. Scoop out small amount of centers with melon baller. Place onions and tops in saucepan with 1/4-inch of water. Add oil and season onions with salt and pepper. In hollow center of each onion, place 1 garlic clove, 1/2 teaspoon each rosemary and thyme. Cover with foil and cook until tender, about 45 minutes to 1 hour.

Couscous
Combine couscous and raisins in bowl. In a small saucepan, bring water and curry to soft simmer. Add to couscous-raisin mixture; cover with plastic wrap and let stand for 5 minutes. Fluff with fork. Then, add remaining ingredients. Season to taste with salt and pepper.

Tomato raisin marmalade
In pan over low heat, sweat onions in olive oil with no coloration until translucent. Add tomatoes, sugar and bay leaf; let sweat for 10 minutes. Add raisins; continue cooking for 5 minutes. Add orange zest and deglaze with vinegar. Let cook for another 5 minutes or until marmalade consistency with no more liquid. Season with ground pepper.

To Assemble
Remove outer skin of cooked onion with fingers or small fork. Remove inner bulb of onion with melon baller. Stuff onion with couscous mixture, making sure the onion is overflowing with mixture. Put top back on onion and serve with Tomato Raisin Marmalade.
Nutrition Facts Per Serving
Calories 630 (38% from fat); Total Fat 27g (sat 3g, mono 20g, poly 3g, ); Protein 8g; Carbohydrate 93g; (Dietary Fiber 10g; ); Iron 3mg; Sodium 40mg; Calcium 96mg;
(No Ratings Yet)
Loading...
Comment on the Recipe
Comments may be moderated. If you don't see your comment, please be patient. It may be posted soon. Do not post your comment a second time. Thank you.