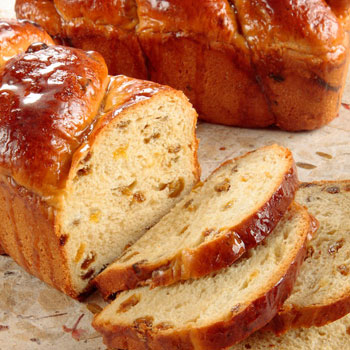 Lucky Golden
Submitted by:
Suzanne Tatis, Pastry Chef Instructor, Art Institute of Las Vegas
I am inspired by the town I live in called Las Vegas. We have a reputation of rich indulgence and I wanted to create a bread that reflects this theme with a note of fun.
FORMULA
Size: 8"L x 4"W x 3.5"H | # Loaves that can be made from 5 lbs flour: 4 | Production Time: 4 hours | % of California Raisin Product to dry flour weight: 50%
MAIN DOUGH
INGREDIENTS
American oz
Metric g/mL
Baker's %
Bread Flour
13.4 oz
380 g
67.86%
Whole Grain Light Rye Flour
6.4 oz
182 g
32.38%
Whole Milk
5.8 oz
165 mL
29.36%
Water
3.5 oz
100 mL
17.79%
Eggs
3.6 oz
103 mL
18.33%
Yeast, Instant
0.5 oz
16 g
2.85%
Salt
0.3 oz
8 g
1.42%
Sugar, granulated
2.2 oz
62 g
11.03%
Butter, soft
3.6 oz
103 g
18.33%
California Golden Raisins
9.9 oz
281 g
50.00%
Grand Marnier Liqueur
3.1 oz
87 mL
15.48%
Cardamom, ground
0.02 oz
0.5 g
0.09%
GLAZE
Sugar, granulated
3.5 oz
100 g
17.79%
Heavy Cream
2.2 oz
63 mL
11.21%
Reserved Grand Marnier from Raisins
N/A
N/A
N/A
TOTALS (not including glaze)
3 lbs, 10.02 oz
1650.5 g
293.92%
PROCEDURE
FINAL DOUGH
Mixing Time
6 minutes
Mixing Speed
Speed 1 – 2 minutesSpeed 2 – 4 minutes
Dough Temp
75oF
Fermentation Time
1 hour 15 minutes
Fermentation Temp
70oF
Dividing Weight
700 g
Resting Time
30 minutes
Make Up

Macerate raisins with Grand Marnier, cover with plastic and set over a bowl of hot water for 15 minutes. Strain and reserve liquid for glaze.
Heat milk to a simmer and cool down to 70oF.
Mix using "improved-mix method", adding raisins when dough is fully-developed.
Pre-shape in log before rest period.
Split and braid, pan and proof in loaf pan

Glaze: Caramelize sugar and deglaze with heavy cream and the reserved Grand Marnier liquid. Cook to reduce to a syrup consistency and strain. Place baked loaves on rack, glaze and let cool.

Proofing Time
1 hour 30 minutes
Proofing Temp
80oF
Proofing Humidity
65%
Type of Oven
Convection
Baking Temperature
350oF
Baking Time
45-50 minutes
Steam if needed
N/A
Finished Product Weight
695 g
This recipe is found in the following categories:
(No Ratings Yet)
Loading...
Comment on the Recipe
Comments may be moderated. If you don't see your comment, please be patient. It may be posted soon. Do not post your comment a second time. Thank you.