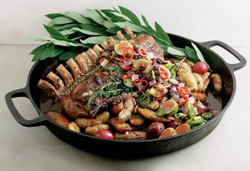 Lavender Pork Loin with California Raisins, Figs and Jalapeños
Submitted by:
Jan Birnbaum
Peppery jalapeños, California raisins and figs sauce a lavender and rosemary-infused pork loin.
INGREDIENTS
Marinated Figs
One 3-inch piece of fresh gingerroot, peeled and sliced 1/8-inch thick

4

allspice berries

4

black peppercorns

1/2 cup

honey

1/2 cup

sugar

1/2 cup

water

1/4 cup

lime juice

1/4 cup

lemon juice

12

firm-ripe fresh figs or rehydrated dried figs
Pork Marinade
12

large garlic cloves, peeled smashed

1

small branch lavender

1

small branch rosemary

3

sprigs thyme

4

tablespoons

pure olive oil

2

teaspoons

whole-grain mustard

1

8-bone pork loin (bones Frenched)

16

to

20

fingerling potatoes or other small creamer potatoes

6

tablespoons

olive oil, divided

10

garlic cloves, left in skins and smashed

1/2 teaspoon

finely chopped fresh rosemary

Salt and freshly ground pepper to taste
Sauce
1

fresh jalapeño pepper, sliced; to taste

1

cup

red wine

1 1/2 cups

veal demi-glaze or highly reduced veal stock

1

cup

California raisins

Marinated figs and roasted potatoes

1

tablespoon

butter

Salt and freshly ground pepper to taste

1/2

bunch finely chopped Italian parsley; for garnish
PROCEDURE
Marinated Figs
Prepare 5 to 10 days in advance. Place ginger, allspice and peppercorns in an 8×8-inch piece of cheesecloth and tie with twine. Combine remaining sauce ingredients in a non-reactive saucepan; add sachet and bring to gentle boil. Simmer until slightly syrupy.
Cut a skin-deep X on blossom end of fresh fig or, cut dried figs into halves. Place figs in non-reactive container; then set container in large bowl or sink filled with ice water. Pour hot, reduced liquid over figs and cool. Remove container from ice water; cover and store in refrigerator for 5 to 10 days. Cut fresh figs in half, and reserve for garnish.
Pork Marinade
Eight to 24 hours in advance, combine all pork marinade ingredients in a non-reactive bowl, pressing herbs with back of spoon to release their flavors. Coat pork evenly with mixture. Cover and let stand in refrigerator overnight or up to 24 hours, turning 2 or 3 times.
Roast Pork and Potatoes
Preheat oven to 375°F. Toss potatoes with 4 tablespoons olive oil, smashed garlic cloves and rosemary. Season with salt and pepper. Set aside. Heat remaining 2 tablespoons olive oil in roasting pan over high heat and brown pork well on all sides. Roast in oven at 375°F for 20 minutes and then add potato mixture, arranging cut side down. Roast 20 minutes longer or until internal temperature is 140°F. Remove from oven. Set pork on cutting board and cover with kitchen towel, and allow to rest. Transfer potatoes from roasting pan to plate.
Sauce
Pour excess fat from roasting pan. Add slices of jalapeños and sauté for 2 minutes over medium heat. Deglaze pan with red wine and reduce until almost all liquid has evaporated. Add demi-glaze, raisins, marinated figs and roasted potatoes along with any remaining fig marinade; simmer for 5 minutes. With a slotted spoon, remove potatoes and figs to warm serving platter. Whisk butter into sauce. Adjust seasoning with salt and pepper.
To Serve
Cut chops at each bone and arrange on top of potatoes and figs. Spoon raisins and sauce over chops. Garnish with chopped parsley.
Note:The consistency of demi-glaze or highly reduced veal stock should be thick enough to coat back of a spoon. With your finger, draw a line across back of coated spoon. If line maintains its shape, glaze is proper consistency.
Nutrition Facts Per Serving
Calories 890 (47% from fat); Total Fat 47g (sat 14g, mono 25g, poly 4g, trans 0g ); Cholesterol 100mg; Protein 30g; Carbohydrate 85g; (Dietary Fiber 6g; Sugars 56g; ); Iron 3mg; Sodium 240mg; Calcium 97mg; Potassium 1459mg
This recipe is found in the following categories:
(No Ratings Yet)
Loading...
Comment on the Recipe
Comments may be moderated. If you don't see your comment, please be patient. It may be posted soon. Do not post your comment a second time. Thank you.