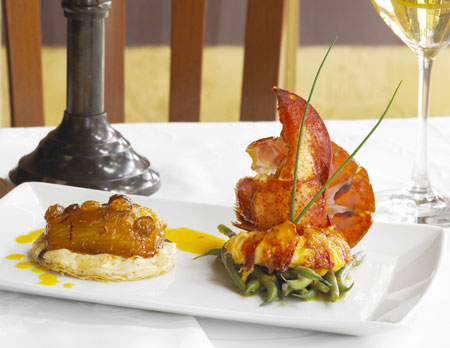 La Folie Lobster with Fennel, Orange and Raisin Tart
Submitted by:
Roland Passot
Unsurpassed raisin-filled tart served with lobster and tangy bean salad.
INGREDIENTS
3

lobsters (1 1/2-pound females, if possible)

1

carrot, peeled and diced

1

onion, peeled and roughly chopped

1/2

bunch celery, washed and cut

1

tablespoon

ground cayenne pepper

1

tablespoon

each anise seed, fennel seed, coriander seed and bay leaf

1/2 cup

red wine vinegar
Beurre Fondue
2

tablespoons

olive oil

3

tablespoons

minced shallots

1

tablespoon

anise seed

1

tablespoon

fennel seeds

2

star anise

1

tablespoon

coriander

1

bay leaf

1

French cayenne pepper

1

cup

dry white wine

3 to 4 cups (1 1/2 to 2 pounds) butter

1

bunch fresh tarragon

Salt and pepper
Fennel, Orange, Raisin Tatin
3

bulbs fennel, halved and bottom core removed

1

cup

olive oil, divided

Juice of 1 lemon

1

bay leaf

2

cups

fresh orange juice

1/2 cup

California raisins

Zest of 2 oranges

Salt and pepper

Pinch of saffron

1

sheet puff pastry, cut into 4-inch circles

1

egg, for egg wash
Chilled Bean Salad
3

tablespoons

minced shallots

3

tablespoons

sherry vinegar

Salt and pepper; to taste

6

tablespoons

extra virgin olive oil

6 to 9 ounces blanched French beans (haricot verts)

6

basil leaves; julienne chiffonade (finely sliced crosswise)

3

tablespoons

extra virgin olive oil

Chive sticks; for garnish

Fried basil leaves; for garnish
PROCEDURE
Lobsters
In a wide bottom pot filled with water, add carrots, onion, celery, spices and vinegar. Bring to boil. Place lobsters in pot and cook 5 minutes. Remove lobsters and immediately place in an ice bath to stop further cooking. Lay lobster on a towel; pull off legs and snap off knuckles. Remove thin part of claw and bone inside claw meat by twisting and pulling out. Lay claw flat on towel and cover; gently pound with a wide mallet or heel of a knife. Use your fingers to gently push meat through large open end. Lay tail meat flat and cut in half lengthwise through the middle. Remove vein running through inside of tail. Reserve meat on paper towel; cover and refrigerate. For knuckles, cut off top joint of each knuckle. Use scissors to cut away shell along smooth outside edge of knuckle. With your fingers, open shell and remove meat. For body/shell, pull back and discard sack behind head. [If desired, reserve the roe (dark green colored), body and legs in freezer bags to make sauces and stocks later. Discard tomalley and lungs.]
Beurre Fondue
In saucepan over medium heat, heat olive oil and "seur" (sauté without coloration until translucent) minced shallots for a few minutes. Add anise, fennel, star anise, coriander, bay leaf and cayenne pepper; suer a few minutes more. Add white wine. Bring to a boil for 2 minutes. Add butter and whisk to emulsify. Strain and discard shallot. Add fresh tarragon, salt and pepper to taste. Stir in lobster tails and claws; keep in warm place. Do not boil.
Fennel Tatin
Cook fennel in salted water with 1/2 cup olive oil, lemon juice and bay leaf for about 20 minutes, until tender when pierced with knife or skewer. Drain. Then, sauté in remaining 1/2 cup olive oil until caramalized on both sides, approximately 5 minutes. Deglaze with orange juice. Add raisins and cook for another 5 to 8 minutes until completely coated with syrupy orange juice reduction. Stir in orange zest. Salt and pepper to taste and add a pinch of saffron.
Brush rounds of puff pastry with egg wash and bake in oven at 425°F for 10 minutes. To assemble, place 1 fennel half on top of each par-cooked puff pastry. Brush on reduction and heat in a 375°F oven for approximately 5 minutes.
Chilled Bean Salad
Mix shallots, vinegar, salt and pepper with olive oil. Toss with haricot verts and basil chiffonade.
To Assemble
Cut Fennel Tatin in half, arrange on one side of plate and spoon Chilled Bean Salad on opposite side. Remove lobster from Beurre Fondue and carefully place on top of bean salad. Decorate with remaining lobster meat and saffron-orange sauce from fennel; drizzle with extra virgin olive oil. Garnish with chive sticks and fried basil leaves. Serve immediately.
Nutrition facts not available.
This recipe is found in the following categories:
(No Ratings Yet)
Loading...
Comment on the Recipe
Comments may be moderated. If you don't see your comment, please be patient. It may be posted soon. Do not post your comment a second time. Thank you.