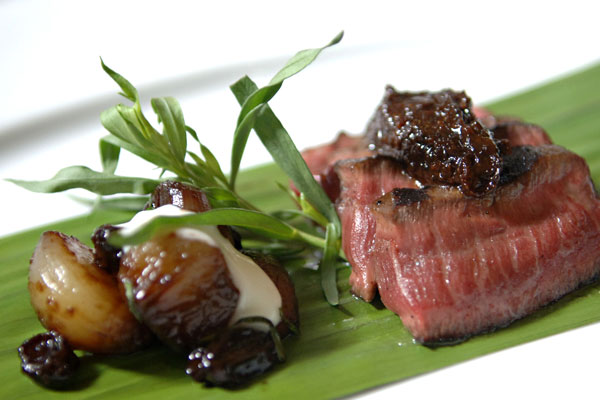 Kobe Beef and California Raisin-Coffee Salsa served with Roasted Shallots and California Raisins with Crème Fraiche
Submitted by:
Robert Del Grande
California Raisins, cocoa and coffee salsa accent the South American flavors in this dish.
INGREDIENTS
Raisin-Coffee Salsa
1

ounce

ancho chiles

1/2 cup

water

4

ounce

California raisin paste*

1

teaspoon

finely ground coffee

1

teaspoon

cocoa powder

1

tablespoon

adobo (optional)

1/4 cup

butter, melted

1

tablespoon

balsamic vinegar

1 1/2 teaspoons

salt
Raisin Recado Marinade and Kobe Beef
1/2 ounce

Oaxaca pasilla chiles

6

ounce

ancho chiles

1

quart

warm water

1

pound

(3 cups) smoked almonds

8

ounce

(1 cup) butter, melted

3

ounce

California raisin paste*

2 1/2 ounce

semisweet chocolate, melted

1/4 cup

salt

3

pounds

sirloin or flat iron steak Kobe or USDA prime beef
Roasted Shallots and Raisins
1

pound (about

18

) shallots, peeled and halved

2 bacon strips, coarsely chopped

2

tablespoons

California raisins

2

tablespoons

California raisin juice concentrate*

2

tablespoons

butter, melted

1/4 teaspoon

salt

1/4 teaspoon

coarsely ground black pepper

4

ounce

(1/2 cup) butter

2

garlic cloves, minced

1

tablespoon

finely crushed coffee beans

2

teaspoons

finely chopped fresh tarragon

1

cup

crème fraiche

1

tablespoon

sea salt; for garnish
PROCEDURE
Raisin-Coffee Salsa
Stem and seed ancho chiles; toast lightly and combine with 1/2 cup water; set aside to soak until soft. Transfer chiles with liquid to blender and purée until smooth. Combine with raisin paste, ground coffee, cocoa powder, puréed ancho, adobo, butter, vinegar and salt; mix well. Set aside.
Raisin Recado Marinade
Stem and seed chiles; toast lightly. Combine with warm water and soak until soft, about 30 minutes. Transfer to blender and purée until smooth. In food processor, combine almonds with 1 cup butter and process till coarse paste. Turn into mixing bowl and add puréed chiles, raisin paste, chocolate and salt; blend well. Rub beef all over with marinade and allow to stand for about 30 minutes.
Roasted Shallots and Raisins
Meanwhile, combine shallots, bacon, raisins, raisin juice concentrate, butter, salt and pepper in mixing bowl; toss to coat shallots evenly. Turn into shallow roasting pan just large enough to hold shallots and roast at 350°F for approximately 45 minutes or until shallots are soft and bacon is cooked. Keep warm.
Grill beef over charcoal or broil until rare (145°F) or medium rare (160°F). Meanwhile, combine butter and garlic in small saucepan. Heat till butter foams. Remove from heat and keep warm.
Just before service, stir crushed coffee beans into Salsa. Add chopped tarragon to Shallot-Raisin mixture and stir to blend. Thinly slice meat and arrange on serving plates. Drizzle a little warm garlic butter over and spoon on small portion of salsa. Arrange a few roasted shallots and raisins on each plate and drizzle with crème fraiche. Sprinkle with sea salt to taste.
Notes: Commercially prepared California raisin paste and raisin juice concentrate are available from foodservice and industrial suppliers. To make your own raisin paste, grind or process in a food processor whole California raisins equal to twice the amount of raisin paste (14 ounces natural raisins) until very finely chopped and smooth.
Nutrition Facts Per Serving
Calories 1380 (62% from fat); Total Fat 98g (sat 41g, mono 40g, poly 10g, trans 0g ); Cholesterol 285mg; Protein 69g; Carbohydrate 66g; (Dietary Fiber 16g; Sugars 35g; ); Iron 13mg; Sodium 5530mg; Calcium 285mg; Potassium 2282mg
This recipe is found in the following categories:
(No Ratings Yet)
Loading...
Comment on the Recipe
Comments may be moderated. If you don't see your comment, please be patient. It may be posted soon. Do not post your comment a second time. Thank you.