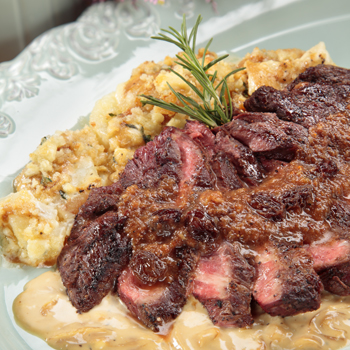 Grilled Flat Iron with Potato Gratin, Gorgonzola-Onion Fondue and Housemade Raisin Steak Sauce
Submitted by:
Todd Slossberg
Outstanding steak sauce!
INGREDIENTS
Housemade Steak Sauce
1

small Spanish onion, diced

5

cloves garlic, minced

1/4 cup

granulated sugar

1/4 cup

molasses

1/4 cup

corn syrup

2

tablespoons

orange juice concentrate

1/2 cup

plus 2 tablespoons malt vinegar

1/2 cup

red wine vinegar

1

cup

California raisins

1/2 cup

ketjap manis

1/4 cup

tomato purée

1/4 cup

lemon juice

1/2 tablespoon

dried basil

1/4 cup

grapefruit juice

1/4 cup

Worcestershire sauce

2

cups

chicken broth
Potato Gratin
2

large Idaho potatoes

2/3 cup

minced roasted garlic cloves

4

sprigs fresh thyme

1

cup

reduced heavy cream

Kosher salt and freshly ground white pepper
Gorgonzola-Onion Fondue
3

tablespoons

blended oil

1

large white onions, cut in matchstick-size pieces (julienne)

2/3 pound

Gorgonzola cheese, broken into small chunks

4

flat irons of beef (4 ounces each), trimmed and seasoned with salt and pepper

1/4 cup

(2 ounces) unsalted butter

4

small sprigs fresh rosemary

Japanese breadcrumbs

Oil, as needed
PROCEDURE
Housemade Steak Sauce
In a large saucepan, sweat onion and garlic. Add sugar, molasses and corn syrup and reduce until mixture is syrupy. Add concentrate, vinegars and raisins and return to a simmer; reduce. When mixture is reduced, add ketjap manis and tomato purée. Bring to a simmer and then add all remaining ingredients; continue simmering for 30 minutes. Purée in a blender, adjusting consistency with chicken broth. Keep warm until ready to serve.
Potato Gratin
Preheat the oven to 300°F.
Peel potatoes and square them by slicing off rounded edges. Using a mandoline, cut each potato lengthwise into 1/8-inch thick slices. Shingle in a single layer half way up the sides of a sheet pan. Season with salt, pepper, garlic confit and thyme sprigs.
Cook, covered for 45 minutes. Uncover and remove thyme sprigs. Add reduced cream to cover. Cook gratin another 10 minutes, until cream is absorbed. Add more cream and continue cooking 10 more minutes. Remove from oven. Season with kosher salt and white pepper; set aside to cool.
Gorgonzola-Onion Fondue
Heat oil in rondeau or heavy skillet and sweat onions until translucent. Fold in Gorgonzola and stir until melted. Remove from heat. Cool and then strain off excess liquid through a large-holed colander. Spread strained mixture over potato gratin.
To Assemble
Preheat oven to 350°F.
Cut potato gratin into single serving pieces. Sprinkle each serving with seasoned Japanese breadcrumbs. Heat in oven at 350°F for about 10 minutes or until potatoes are heated and breadcrumbs are golden brown.
While potatoes are heating, prepare flat irons. Heat a little oil in a large sautépan over medium-high heat. Add meat and cook about 4 minutes per side or until medium-rare (175°F). Add butter and rosemary; baste meat until butter foams. Remove from pan and place on rack to rest.
To serve, place 1 serving of potato gratin on each plate. Slice flat irons and arrange slices on top. Spoon steak sauce around potato gratin and garnish with rosemary sprigs.
Chef Note: Ketjap manis or kelap mais is an intensely brown, syrupy-thick Indonesian sauce found in Asian markets.
Nutrition Facts Per Serving
Calories 660 (45% from fat); Total Fat 34g (sat 16g, mono 11g, poly 2g, trans 0g ); Cholesterol 125mg; Protein 26g; Carbohydrate 66g; (Dietary Fiber 3g; Sugars 40g; ); Iron 5mg; Sodium 1270mg; Calcium 153mg; Potassium 989mg
This recipe is found in the following categories:
(No Ratings Yet)
Loading...
Comment on the Recipe
Comments may be moderated. If you don't see your comment, please be patient. It may be posted soon. Do not post your comment a second time. Thank you.