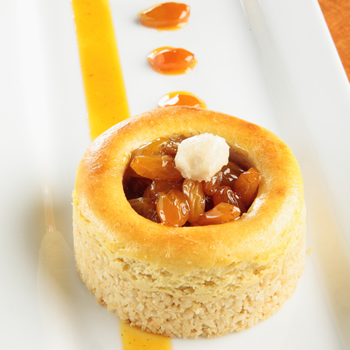 Golden Raisin Getaway
Submitted by:
Kaitlyn Guest, R&D Chef, Gold Coast Ingredients
I wanted to create a baked good similar to an entremet, with different layers of contrasting flavors and textures. I gave it a tropical theme in honor of my Mom retiring this year, I wanted her to be able to eat one and imagine she was in the tropics!
FORMULA
Size: 8 cm Dia, 3.5cm H |  # Pieces that can be made from 5 lbs flour: 91 | % of California Raisin Product to dry flour weight: 112.9% | Production Time: 8 hours
BRIOCHE DOUGH INGREDIENTS
TOTAL FORMULA
US/oz
Metric/g
Bakers %
Bread Flour
80
2268
100
Golden Raisin Puree
40
1134
50.0
Yeast, instant
2.4
68
3.0
Salt, kosher
1.5
41.6
1.8
Egg, whole
9.1
257
11.3
Egg yolk
6.7
189
8.3
Milk
22.9
650.2
28.7
Butter, softened
33.3
945
41.7
PASSION FRUIT INFUSED RAISIN FILLING:
Water
30.5
865
38.1
Passion Fruit Juice Concentrate
30.5
865
38.1
California Golden Raisins
50.3
1427.3
62.9
Sugar, granulated
45.7
1297.5
57.2
Cornstarch
2.4
69.2
3
Vanilla Bean Paste
0.9
26
1.1
Macadamia nuts, toasted, roughly chopped
16
460
20.2
COCONUT CRUST INGREDIENTS:
Flour, all purpose
52.8
1496
66.0
Brown Sugar
17.8
506
22.3
Butter, softened
44
1247
55.0
Coconut, shredded, unsweetened
62.1
1760
77.6
Salt, Kosher
0.74
21
0.93
Egg whites
8.8
250
11
TOTALS
558.4
15842.8
PROCEDURE
BRIOCHE DOUGH PROCEDURE:
Using a dough hook, mix all ingredients except butter, on 1st speed until blended. Increase to medium speed and mix for approximately 15 minutes, until dough pulls away from sides of bowl and gluten begins to develop.
Continue mixing on medium speed and begin adding softened butter in stages, approximately 80-100g per addition, until all butter is incorporated.
Cover and allow to rest at room temperature for 30 minutes.
CRUST PROCEDURE:
Mix all ingredients until well blended. The mix should be dry and crumbly.
Spread mix evenly on sheet tray and bake at 350F for 15 minutes, or until mix becomes light golden in color
Once cool, break up any large pieces and mix in whites until well combined.
FILLING PROCEDURE:
Combine the water, passion fruit juice concentrate and raisins and allow to soak overnight.
Mix together the sugar and cornstarch and whisk into the raisin/juice mixture.
Place on the stove, and while stirring heat to a boil. Boil for 4-6 minutes until thickened and cornstarch is fully activated
Remove from heat and stir in the vanilla bean paste and macadamia nuts.
BAKING AND ASSEMBLY:
Oil baking rings and set up on sheet trays lined with parchment.
In each ring place one scoop or approximately 50g of coconut crust. Press the coconut into the bottom of the rings.
Portion brioche dough into 55g pieces. Shape and press into baking rings on top of the coconut. Place smaller ring inside the dough allowing the brioche to proof into a cup/bowl shape.
Proof at 95F for 1 hour.
Bake in deck oven at 360F for 15 minutes.
After 15 minutes, once the dough has started to darken slightly in color, remove trays from oven and carefully remove all rings from product.
Egg wash exposed dough surface and place one scoop or approximately 50g of passion infused raisin filling in brioche cup.
Return trays to 360F oven for another 10-15 minutes or until golden brown.
Cool and package and/or plate.
This recipe is found in the following categories:
(No Ratings Yet)
Loading...
Comment on the Recipe
Comments may be moderated. If you don't see your comment, please be patient. It may be posted soon. Do not post your comment a second time. Thank you.