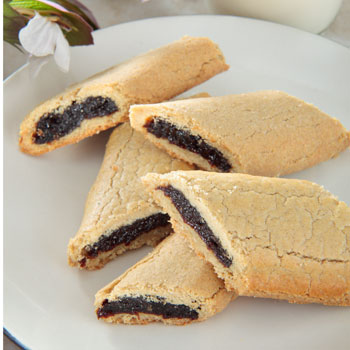 Gluten-Free Raisin Newton
Submitted by:
Craig Ponsford - Ponsford's Place - San Rafael, CA
FORMULA
Raisin Filling
Total Formula
Metric/g
 Metric/g
Bakers %
California Raisin Paste
1.500
Oat Flour
 1.042
 100.00
Powdered Sugar
 0.208
 20.00
Butter
 0.625
 60.00
Vanilla Extract
 0.031
 3.00
Egg Yolks
 0.073
 7.00
Salt
 0.021
 2.00
Totals
 2.000
PROCEDURE
Posted
June 28, 2012 by Gary
Servings
Ingredients
Directions
Dough
Briefly mix soft butter and sugar, in a planetary mixer fitted with a paddle.
Add egg yolks and vanilla, mix until combined.
Mix in flour and salt on low until combined. Scoop dough onto a well floured surface and flatten into a rectangle.
Chill for an hour, roll out to ¼". Chill for 20 minutes.
Take out and cut into 5" wide strips, measure out 100g of raisin paste per 12" of length.
Scoop filling into a piping bag and pipe a ½" wide line down the center of each strip.
Fold dough in carefully on both sides avoiding air pockets and roll into a uniform log.
Place seam-side down on parchment-lined sheet pans, flatten the top to create a rectangle.
Baking
Bake for 15-20 minutes at 325˚F.
Cool and cut into squares or diamonds.
This recipe is found in the following categories:
Special Diet
(No Ratings Yet)
Loading...
One Response
Comment on the Recipe
Comments may be moderated. If you don't see your comment, please be patient. It may be posted soon. Do not post your comment a second time. Thank you.