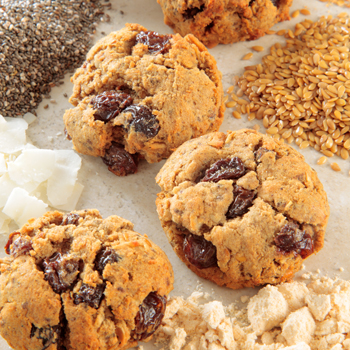 Gluten-Free Coconut Raisin Cookie
Submitted by:
Craig Ponsford - Ponsford's Place - San Rafael, CA
FORMULA
Total Formula
Metric/kg
Bakers %
Coconut Flour
0.236
30.00
Brown Rice Flour
0.315
40.00
Potato Starch
0.236
30.00
Cardamom
0.008
1.00
Cinnamon
0.020
2.50
Baking Soda
0.024
3.00
Kosher
0.008
1.00
Salt
0.472
60.00
Butter, Unsalted
0.394
50.00
Coconut Sugar
0.394
50.00
Eggs
0.197
25.00
Applesauce
0.016
2.00
Vanilla Flax Seeds
0.098
12.50
Chia Seeds
0.098
12.50
Chia/Flax Hydration
0.197
25.00
Unsweetened Coconut Flakes
0.157
20.00
Raisins
0.394
50.00
Raisin Maceration Liquid
0.236
30.00
 Totals
3.500
444.50
PROCEDURE
Posted
July 11, 2012 by Gary
Servings
Ingredients
Directions
One day in advance, macerate raisins in water*, just until covered. Drain well prior to mixing (ideal maceration weight is reflected in the formula).
Toast coconut to a light golden brown in a low oven, cool and set aside.
Dough
Pour chia and flax seed into a bowl and add water, set aside for 15 minutes.
Mix softened butter and sugar in a planetary mixer fitted with a paddle, on medium for 5 minutes until pale and fluffy.
Add seed mixture, break into small pieces and mix thoroughly.
Add eggs, applesauce and vanilla. Mix until dispersed, stop mixer and scrape sides.
Add flours and other dry ingredients and mix on lowest speed until nearly incorporated, add drained raisins and mix until consistent.
Scoop into 35 g pieces, arrange on sheet trays with parchment, leaving some room for spreading.
Baking
Bake at 325°F on low convection for 20 minutes.
Cool con rack.
* To add character, consider accenting with a dash of rum, coconut milk or Limoncello.
This recipe is found in the following categories:
(No Ratings Yet)
Loading...
Comment on the Recipe
Comments may be moderated. If you don't see your comment, please be patient. It may be posted soon. Do not post your comment a second time. Thank you.