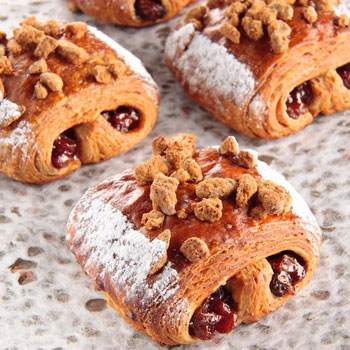 Double California Raisin Whole Wheat Croissant
Submitted by:
Philippe Sanchez - Marriott International - Orlando, FL
Inspiration: My concept came from the desire to do a whole wheat breakfast pastry with no sugar using California Raisins instead. I use an inverse gelatin to do two California Raisin Bars to fill my dough. To get an interesting texture, I candy some pecans with maple syrup and stick on top before cooking.
FORMULA
| | |
| --- | --- |
| Final Dough | Metric |
| Bread Flour | 1900 g |
| Wheat Germ | 100 g |
| Egg | 200 g |
| Butter | 100 g |
| Instant Yeast | 80 g |
| Salt |  40 g |
| Water | 550 g |
| California Raisins | 600 g |
| Milk | 500 g |
| Roll-in Butter | 800 g |
| Total | 4870 g |
| | |
| California Raisin Filling | |
| California Raisins | 908 g |
| Apple Juice | 908 g |
| Tica-Algin SQ933 (Alginate) | 36 g |
| Total | 1852 g |
| | |
| Topping - Maple Pecan Candies | |
| Maple Syrup | 500 g |
| Pecan Pieces | 400 g |
| Total | 900 g |
PROCEDURE
Final dough
My preferment is my final dough. 1 – 1.5 hours at room temperature for the first fermentation and then place the dough in a rectangular shape covered in plastic and place in the refrigerator overnight.Robot coupe very well the water and California Raisins to obtain paste.In a 20-quart bowl put all of the ingredients and mix on first speed till clean up stage around 4 minutes.Mix dough on speed 2 for 2-4 minutes. Dough temperature 75-78°F.Soften the butter with a rolling pin and roll out to a perfect rectangle exactly half of the final dough size. Place in refrigerator overnight.The next day place the dough in the freezer for 30 minutes.Work butter with rolling pin to make pliable consistently.Roll in the fat and immediately give tri-folds.

Rest dough in freezer for 30 minutes and then give an additional tri-fold.

Rest dough in refrigerator for 1.5 hours then place in the freezer for 30 minutes.

Sheet at number 3 and cut 3″ x 5″.

With a long edge of the rolled dough facing you, brush the bottom half of the rectangle with egg wash. Place the raisin filling in pairs the entire length of the dough, starting one-third of the way from the top of the rectangle. Fold the top of the dough over the filling, leaving 1.5 of dough at bottom. Fold the folded dough containing the raisin over again, so the seam is centered on the bottom of the dough.

Put on parchment paper 5 x 4 and proof at room temperature for 4 hours. When dough has doubled in size, egg wash and top with candied pecans and bake at 350°F for 21 minutes.
California Raisin Filling
Put the Apple juice in a narrow container and add Tica-Algin mixing with a bar mixer. In a sauce pan put the mixture of Apple juice and raisins and cook until broiled. Scoop out 30 g portion in Silpat Rectangular 24 molds: 18″ x 26″. Cut the raisin filling in half.
Topping – Maple Pecan Candies
Roast pecans in a pan at 170°C until they are golden and set them aside. in a sauce pan put the Maple syrup and cook at 116°C. Combine with a spatula then mix until the pecans develop a granular coating of Maple sugar.Reserve.
This recipe is found in the following categories:
(No Ratings Yet)
Loading...
Comment on the Recipe
Comments may be moderated. If you don't see your comment, please be patient. It may be posted soon. Do not post your comment a second time. Thank you.