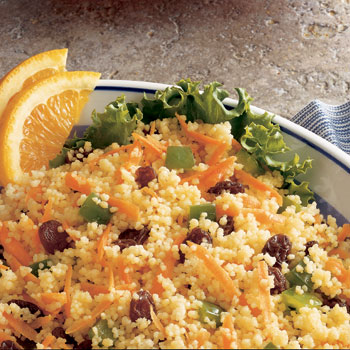 Couscous Salad for Schools
INGREDIENTS
6 1/2 cups

instant couscous

4 1/4 cups

California raisins

4 1/4 cups

chopped green bell peppers

3 1/4 cups

shredded carrots
Orange Vinaigrette
2 1/8 cups vegetable oil

1

cup

+ 2 tablespoons orange juice concentrate, thawed

1/2 cup

+ 1 tablespoon vinegar

3

tablespoons

sugar

2 1/2 tablespoons

dried chopped chives

2

tablespoons

dried parsley

1

tablespoon

salt
PROCEDURE
Posted
August 11, 2011 by Melinda
Servings
64
Ingredients
6 1/2 cups

instant couscous

4 1/4 cups

California raisins

4 1/4 cups

chopped green bell peppers

3 1/4 cups

shredded carrots
Orange Vinaigrette
2 1/8 cups vegetable oil

1

cup

+ 2 tablespoons orange juice concentrate, thawed

1/2 cup

+ 1 tablespoon vinegar

3

tablespoons

sugar

2 1/2 tablespoons

dried chopped chives

2

tablespoons

dried parsley

1

tablespoon

salt
Directions
1. Cook couscous according to package directions; stir gently with spoon to fluff.
2. Add raisins, peppers and carrots; mix well.
3. Combine ingredients for vinaigrette and mix well.
4. Toss vinaigrette with salad ingredients; chill.
5. Serve 1/2 cup per serving.
Nutrition Facts Per Serving
Calories 170 (38% from fat); Total Fat 7g (sat 0g, mono 4g, poly 2g, trans 0g ); Cholesterol 0mg; Protein 3g; Carbohydrate 24g; (Dietary Fiber 2g; Sugars 9g; ); Iron 0mg; Sodium 115mg; Calcium 9mg; Potassium 149mg
This recipe is found in the following categories:
(No Ratings Yet)
Loading...
Comment on the Recipe
Comments may be moderated. If you don't see your comment, please be patient. It may be posted soon. Do not post your comment a second time. Thank you.