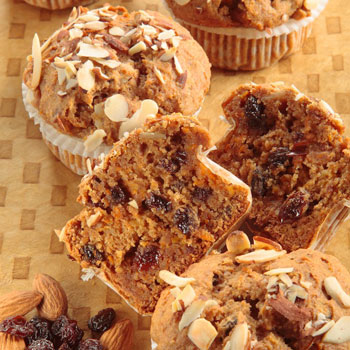 Carrot Raisin Nut Muffin
"I came across an old recipe for a dense carrot muffin. I updated the ingredients and the formulation to create a lighter, hearty, healthy breakfast treat. It's loaded with protein making it great for moms on the go, athletes and busy commuters. It's our number one seller."
FORMULA
Size: 3.5"L x 2.5 - 3"H | # Loaves that can be made from 5 lbs flour: 60 | Production Time: 90 minutes | % of California Raisin Product to dry flour weight: 29%
TOTAL FORMULA
INGREDIENTS
American oz
Metric g/mL
Baker's %
Whole Spelt Flour
48 oz
1360 g
100%
Baking Powder
0.50 oz (1 tbsp)
15 g
1.10%
Baking Soda
0.50 oz (1 tbsp)
15 g
1.10%
Cinnamon
0.18 oz (2 tsp)
5 g
0.37%
Salt
0.18 oz (1.5 tsp)
5 g
0.37%
Agave
24 oz
680 g
50%
Oil
16 oz
455 mL
33%
Water
12 oz
340 mL
25%
Tofu
24 oz
680 g
50%
Grated Carrots
32 oz
910 g
67%
California Natural Raisins
14 oz
395 g
29%
Sliced Almonds
4 oz
115 g
8%
Chopped Walnuts
4 oz
115 g
8%
TOTALS
11 lbs, 3.36 oz
5090 g
373%
PROCEDURE
FINAL DOUGH 
Mixing Time
Less than 3 minutes
Mixing Speed
Low speed with paddle
Dough Temp
Ambient
Fermentation Time
N/A
Dividing Weight
Scooped with 4 oz volume disher
Resting Time
N/A
Make Up
Muffin
Proofing Time
N/A
Type of Oven
Deck or convection
Baking Temperature
375oF
Baking Time
30-40 minutes
Finished Product Weight
5 oz
Additional Procedures

Mix all dry ingredients for 1 minute with paddle.
Add carrots and mix until all carrots are coated with flour
Puree tofu with water in food processor
Add wet ingredients to the bowl, mix 2 minutes or until just combined
Add raisins & chopped nuts, stir with paddle to combine
Using 4 oz disher, scoop into muffin trays
Top with sliced almonds
Bake for 30-40 minutes at 375oF
This recipe is found in the following categories:
(No Ratings Yet)
Loading...
Comment on the Recipe
Comments may be moderated. If you don't see your comment, please be patient. It may be posted soon. Do not post your comment a second time. Thank you.