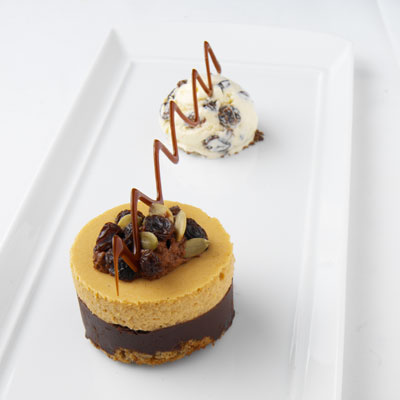 Caramel, Chocolate and Pumpkin Seed Timbales with Sour Cream Rum Raisin Ice Cream
Submitted by:
Norman Van Aken
Stacks of flavor and raisin ice cream, too!
INGREDIENTS
Sour Cream and Rum Raisin Ice Cream
1/2 cup

half and half

2

cups

granulated sugar, divided

2 1/4 teaspoons

honey

7

egg yolks

1 1/2 cups sour cream (

12

ounces)
2 3/4 cups

California raisins

Rum; as needed
Caramel Mousse
1/2 cup

granulated sugar, divided

2 1/2 tablespoons

light corn syrup, divided

1/2

vanilla beans

1

cup

heavy cream, divided

3

tablespoons

unsalted butter

3

egg yolks

water

1/4 ounce

unflavored gelatin powder
Pumpkin Seed Cake
Soft unsalted butter, for brushing the pan

2

cups

cake flour

2

teaspoons

baking soda

1/4 teaspoon

kosher salt

1/3 cup

rum

2

teaspoons

pure vanilla extract

3/4 cup

brewed coffee, at room temperature

1/4 cup

unsalted butter, softened at room temperature

1/2 cup

firmly packed light brown sugar

1

large eggs

1

cup

unsalted shelled pumpkin seeds, toasted and divided
Chocolate Ganache
1/4 pound

bittersweet chocolate, finely chopped

3/4 cup

rum soaked California raisins (above)

1

tablespoon

unsalted butter

2

tablespoons

granulated sugar

3/4 cup

heavy cream

1/4 cup

rum
PROCEDURE
Ice Cream
Measure half-and-half and 1 cup sugar into a medium saucepan and bring to a simmer over medium heat. Add honey, stirring, and scraping sides and bottom with a heatproof rubber spatula. When mixture just begins to scald, combine remaining 1 cup sugar and yolks in a large bowl.
Temper this mixture by whisking in a small amount of heated half-and-half. When the mixture is warm, slowly pour in remaining half-and-half, whisking vigorously. Return to saucepan and place over low heat. Add sour cream and stir until thick enough to coat back of a wooden spoon. Strain through fine mesh sieve into medium bowl over an ice bath. Let cool, stirring occasionally. Remove from ice bath; cover; and refrigerate overnight. At the same time, soak raisins overnight in enough rum to cover.
The next day, following manufacturer's instructions, pour ice cream base into ice cream maker and freeze. When mixture is frozen, but still soft, drain 2 cups of raisins and fold in. Ripen for at least 4 hours or overnight. Reserve remaining raisins in the rum.
Mousse
In a medium heavy saucepan, combine 6 tablespoons sugar and 2 tablespoons corn syrup. Slice vanilla bean in half lengthwise; scrape the seeds and add seeds and pod to pan. Place over medium-high heat until mixture is a light caramel color. Remove from heat. Slowly, while whisking continuously, pour in 1/2 cup plus 2 tablespoons of the cream. Return to medium heat and continue to whisk until mixture is the color of butterscotch. Remove from heat and mix in butter. Cool to room temperature. Whip egg yolks until pale yellow color and tripled in volume; set aside. In a small heavy saucepan, fitted with an instant-read thermometer, combine remaining 2 tablespoons sugar and 1 1/2 teaspoons corn syrup. Add water, 1 tablespoon at a time, just until sugar dissolves. Heat over medium heat until mixture reaches 260°F. While whisking vigorously, slowly and carefully pour hot sugar mixture in a thin stream into yolks. Continue whisking and immediately add gelatin. Transfer to a large, clean, dry bowl. Whisk remaining 1/4 cup plus 2 tablespoons of heavy cream to medium stiff peaks. Fold cooled caramel into yolk mixture. Then, fold in the cream. Cover and refrigerate until ready to use.
Cake
Preheat oven to 350 °F. Butter a 9x13x2-inch baking pan and line the bottom with parchment paper.
Combine cake flour, baking soda and salt in a small bowl. In a second small bowl or liquid measuring cup combine the rum, vanilla and coffee. Cream the butter and brown sugar. Add egg and mix until just incorporated. Add dry ingredients to butter mixture alternately with combined wet ingredients ending with dry ingredients. Fold in 3/4 cup of the pumpkin seeds, reserving the remaining 2 tablespoons for the garnish. Do not overmix. Pour the batter into the prepared pan and bake for 15 to 20 minutes. The cake will spring back in the center and a tester will come out clean when done. Remove from the oven and let stand for 5 minutes. Then, turn out onto a rack to cool completely.
Ganache
Measure and chop chocolate into a large bowl and set aside. Drain remaining raisins, reserving rum. Combine butter, sugar and cream in a medium saucepan and place over medium heat. Keeping the lid close at hand, slowly whisk in rum. If rum flames, quickly cover the pot opening lid away from you to check if alcohol has burned off. When mixture just begins to scald, remove from heat and slowly pour over chocolate, stirring constantly. When chocolate has melted, mixture stops steaming and has begun to cool, fold in 1/2 cup of the reserved raisins. Cool completely.
To Serve
Cut 6 to 8 circles of cake and arrange in separate 2 1/2 x1 1/2-inch ring molds on baking sheet lined with silicone mat or parchment paper. Pour about 1/2 inch of ganache on top and then, fill mold with about 3/4 inch of mousse. Chill in refrigerator overnight.
Just before serving, run a dull knife around edges and remove timbales from molds, sliding onto individual serving plates. Top with remaining raisins and toasted pumpkin seeds. Serve a small scoop of ice cream along side.
Chef Notes: Allow at least 2 days advance preparation to ripen ice cream and chill timbales.
If ring molds are not available, cut cake in circles with cookie cutter and arrange timbales in bowls.
Nutrition Facts Per Serving
Calories 1410 (40% from fat); Total Fat 64g (sat 38g, mono 13g, poly 3g, trans 0g ); Cholesterol 480mg; Protein 22g; Carbohydrate 183g; (Dietary Fiber 5g; Sugars 144g; ); Iron 6mg; Sodium 650mg; Calcium 367mg; Potassium 742mg
This recipe is found in the following categories:
(No Ratings Yet)
Loading...
Comment on the Recipe
Comments may be moderated. If you don't see your comment, please be patient. It may be posted soon. Do not post your comment a second time. Thank you.