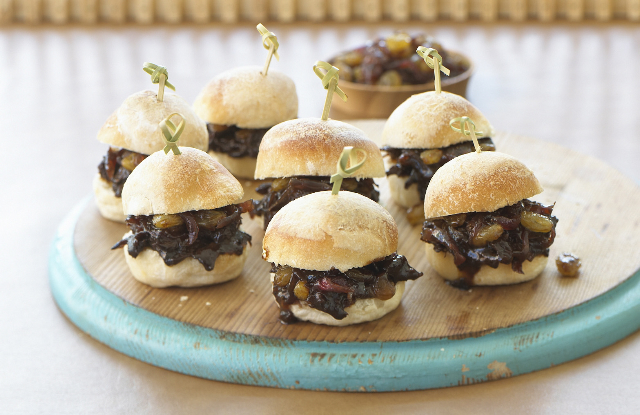 California Raisin Short Rib Slider with California Golden Raisin Red Onion Jam
Smoky mustard and sweet raisin-onion jam top beef sliders with pizzazz.
INGREDIENTS
2

quarts

California raisin juice concentrate*

2

cups

canola oil

1

cup

Dijon mustard

1

cup

chopped fresh rosemary, leaves only

1

tablespoon

sea salt

1

tablespoon

freshly ground black pepper

10

pounds

beef short ribs

1/2 cup

canola oil

Sea salt and fresh ground pepper; to taste

3

quarts

beef stock
California Raisin Chipotle Mustard Glaze
9

ounce

Dijon mustard

2

pounds

10

ounces California raisin juice concentrate

2

pounds

10

ounces California raisin paste

12

fluid ounce

olive oil

4

ounce

chopped fresh garlic

8

grams freshly ground black pepper

1

ounce

fresh rosemary; leaves only, chopped fine

4

ounce

chipotle pepper canned in adobo sauce; stemmed, seeded and puréed
California Golden Raisin Red Onion Jam
2

fluid ounce

olive oil

4

pounds

fresh red onioins, peeled and julienned

6

grams sea salt

4

grams fresh ground black pepper

8 1/2 fluid ounce

rice wine vinegar

4

fluid ounce

honey

8

fluid ounce

water

2

fluid ounce

pomegranate syrup or grenadine

1

pound

California golden raisins

6

dozen 3-inch soft dinner rolls, cut in half horizontally
PROCEDURE
One or two days ahead, combine concentrate, oil, mustard, rosemary, 1 tablespoon salt, and 1 tablespoon pepper in large bowl; mix together well. Add short ribs and toss to coat. Turn into deep hotel pans; cover and let stand in refrigerator overnight.
To prepare beef, preheat oven to 350°F. Drain beef, reserving marinade, and pat dry with paper towels. Heat griddle or large heavy pan over medium heat; add oil as needed. Season ribs on all sides with sea salt and ground black pepper. Working in batches, cook on all sides until lightly browned, about 6 minutes. Transfer to clean deep hotel pans, arranging in a single layer of neat rows.
Combine beef stock and reserved marinade; mix well. Divide and pour over short ribs. Cover pans tightly with foil and bake at 350°F for 2 hours. Uncover and turn ribs. Recover; return to oven and bake for 1-1/2 to 2 hours more or until meat is very tender. Let stand in pan until cool enough to handle; then drain liquid and discard. Remove and discard bones; shred meat into pieces about 1-inch long and 1/4-inch thick, removing and discarding excess fat or gristle. May be stored, covered, in refrigerator, for up to 4 days before serving.
For Mustard Glaze, combine all ingredients in blender or food processor and process until very smooth. Set aside.
For Red Onion Jam, heat oil in a 12-inch nonstick sautépan and sauté onions over medium heat. Season with salt and pepper and cook until very soft. Stir in vinegar and reduce to consistency for glaze. Add honey, water, pomegranate syrup and golden raisins. Reduce heat to low and cook until thickened. Store in refrigerator until ready to use.
To Assemble 4 Sliders
Heat a 12-inch sauté pan over medium high heat; add 4 ounces prepared short rib meat and 1.5 ounces California Raisins Chipotle Mustard Glaze. Then, cook, stirring often until heated through. Divide evenly and spoon onto the bottoms of 4 small buns. Top each one with 1 tablespoon California Raisin Red Onion Jam and replace tops. Serve hot.
Nutrition Facts Per Serving
Calories 610 (38% from fat); Total Fat 28g (sat 7g, mono 15g, poly 4g, trans <1g ); Cholesterol 60mg; Protein 25g; Carbohydrate 75g; (Dietary Fiber 3g; Sugars 55g; ); Iron 6mg; Sodium 680mg; Calcium 107mg; Potassium 532mg
This recipe is found in the following categories:
(No Ratings Yet)
Loading...
2 Responses
Comment on the Recipe
Comments may be moderated. If you don't see your comment, please be patient. It may be posted soon. Do not post your comment a second time. Thank you.