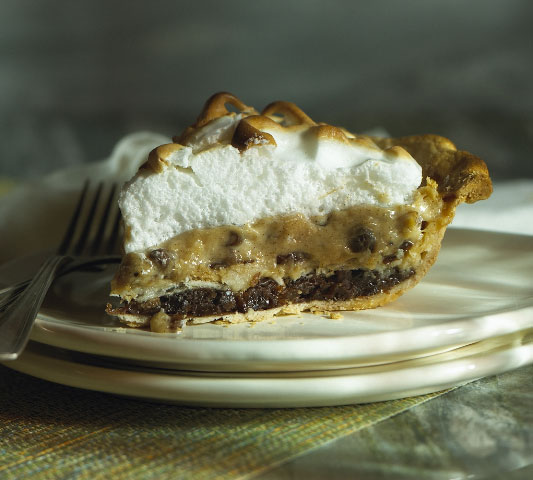 California Raisin and Sour Cream Dream Pie
By Karen Hall, First Place Amateur Division California Raisin Category, 2008 APC Crisco® National Pie Championships
A prize winner -- well worth the extra effort to stuff the crust. Fabulous taste!
INGREDIENTS
Crust
2

cups

unbleached flour

1

teaspoon

sea salt

3/4 cup

cold butter flavor all-vegetable shortening*

1

egg yolk, beaten

4-8 tablespoons ice water

1

tablespoon

rice vinegar
Maple Filling
1

cup

California raisins

1/2 cup

hot water

2

teaspoons

cornstarch

2

tablespoons

cold water

2

tablespoons

butter

1/2 cup

pure maple syrup

1/2 teaspoon

ground cinnamon

1/4 cup

chopped walnuts
Sour Cream Filling
1

cup

California raisins

1/2 cup

hot water

1/3 cup

sugar

1

teaspoon

cinnamon extract

2

tablespoons

cornstarch

1/2 cup

half and half

1/2 cup

sour cream

3

egg yolks, beaten

1

teaspoon

vanilla

2

tablespoons

butter
Meringue
4

egg whites, at room temperature

3

tablespoons

sugar

1/4 teaspoon

cream of tartar

1/2 teaspoon

vanilla
PROCEDURE
Crust
In a large bowl, combine flour and salt. With a pastry blender, cut in shortening until mixture resembles coarse crumbs; set aside. In a small bowl, beat egg, 4 tablespoons water and vinegar together; add to flour mixture and stir with a fork, adding more water, 1 tablespoon at a time, just until dough comes together. Do not over mix. Divide into 2 balls, so that one is twice as large as the other; wrap separately in plastic wrap and refrigerate for at least 30 minutes or overnight.
Raisin Maple Filling
Combine raisins and hot water in a small bowl; set aside to plump. Measure cornstarch into a small bowl and mix together with 2 tablespoons cold water. Melt butter in a small saucepan; stir in maple syrup, cinnamon, and cornstarch mixture. Cook over medium heat 3 to 4 minutes until thickened. Drain raisins and stir into hot mixture along with walnuts; cook for 1 to 2 minutes more; set aside.
To Assemble Stuffed Crust
Preheat oven to 425°F. Roll out large ball of dough between two sheets of wax paper to make a 12-inch round. Fit into a 9-inch deep-dish pie plate. Flute edges and trim excess. Roll out second ball of dough and cut an 8-inch round. Spread Raisin Maple Filling into bottom of pastry-lined pan. Arrange 8-inch pastry round on top; gently pat together. Protect fluted edge with foil and bake at 425°F for 12 to 15 minutes or until golden brown. Set aside.
Sour Cream Raisin Filling
Meanwhile for filling, combine raisins and hot water in a small bowl; set aside to plump. In a medium saucepan, combine sugar, cinnamon extract and cornstarch. Stir in half-and-half; cook over medium heat for 5 to 6 minutes until thickened. Remove from heat and stir in sour cream. Gradually stir a small amount of hot mixture into egg yolks. Then, combine with remaining mixture in saucepan; heat through over low heat. Stir in vanilla and butter until butter is melted. Drain raisins and stir into filling. Remove from heat. Spoon filling into baked stuffed crust; set aside.
Meringue
In a large bowl, beat egg whites until frothy. While beating constantly, gradually add sugar, one tablespoon at a time. Sprinkle in cream of tartar and add vanilla, continue beating until stiff peaks form. Spoon meringue onto hot pie filling. Bake at 375°F for 8 to 10 minutes or until golden brown. Cool and store in refrigerator.
Note: Crisco® Butter Flavor All-Vegetable Shortening preferred.
Nutrition Facts Per Serving
Calories 680 (45% from fat); Total Fat 35g (sat 12g, mono 12g, poly 7g, trans 2.5g ); Cholesterol 135mg; Protein 10g; Carbohydrate 85g; (Dietary Fiber 3g; Sugars 52g; ); Iron 3mg; Sodium 370mg; Calcium 88mg; Potassium 440mg
This recipe is found in the following categories:
(
1
votes, average:
3.00
out of 5)
Loading...
Comment on the Recipe
Comments may be moderated. If you don't see your comment, please be patient. It may be posted soon. Do not post your comment a second time. Thank you.