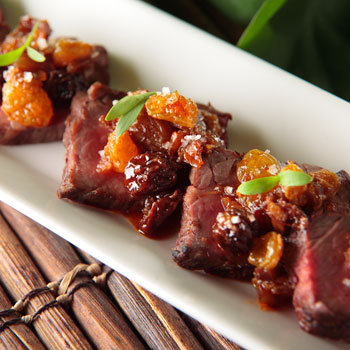 Beef Tataki with California Raisin and Crab XO Sauce
Submitted by:
Alex Ong
Served Thursday night at Worlds of Flavor - sensational flavors!
INGREDIENTS
Raisin and Crab Sauce
5 cups

vegetable oil

4 cups

minced shallots

1 cup

small dried shrimp

2 cups

Korean chili paste (Gochujang)*

1 cup

California raisin juice concentrate

1/2 cup

California natural raisins, minced

1/2 cup

California golden raisins, minced

1/2 cup

granulated sugar

1 cup

sambal oelek*

1 cup

fresh blue crab meat

1 cup

brandy
Beef Tataki
5 pounds

American-style Kobe beef flap meat*

Kosher salt; to taste

Ground black pepper; to taste

Micro cilantro; as needed

Daikon sprouts; as needed
PROCEDURE
Raisin and Crab XO Sauce
Add oil to large sautepan, over low heat, and sweat shallots until soft and translucent. Add dried shrimp and chili paste; mix together well. Stir in raisin juice concentrate, minced natural and golden raisins, and sugar; mix well. Heat and simmer until shrimp are soft. Add brandy and flame. Then, add fresh crab meat; mix together well. Set aside to cool, and store in airtight container in refrigerator until needed.
Beef Tataki
Cutting with the grain, divide beef into 4 logs; season with salt and pepper. Vacuum pack and sous-vide at 136°F for 3 hours.
To serve, remove beef from bag and sear in hot sautepan until browned. Slice thin and arrange on serving platter or individual plates. Adjust seasonings and garnish with micro cilantro and daikon sprouts. Serve with California Raisin and Crab Sauce.
Notes:
1. Gochujang and sambal oelek are available from suppliers specializing in Asian foods.
2. Snake River Farms American Wagyu (Kobe) Beef flap meat (steak) cut from the bottom sirloin butt is recommended, and is available online at snakeriverfarms.com.
Nutrition Facts Per Serving
Calories 1740 (67% from fat); Total Fat 133g (sat 18g, mono 73g, poly 33g, trans 0g ); Cholesterol 185mg; Protein 72g; Carbohydrate 55g; (Dietary Fiber 1g; Sugars 44g; ); Iron 8mg; Sodium 320mg; Calcium 83mg; Potassium 1331mg
This recipe is found in the following categories:
World Flavors
(
1
votes, average:
4.00
out of 5)
Loading...
Comments are closed.