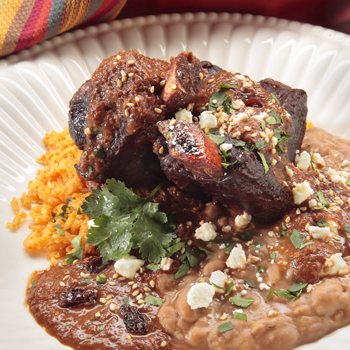 Beef Ribs with Smoky Raisin Mole
Submitted by:
Culinary Institute of America at Greystone
Finger-licking good and spicy ribs!
INGREDIENTS
Smoky Raisin Mole (makes 4 cups)
5

chile negro (dried chilaca pepper)

5

chile ancho (dried poblano pepper)

1

cup

California raisins

1

cup

ruby port

1/4 cup

blanched almonds

2

piece

French bread

5

cloves garlic, unpeeled

5

Roma tomatoes

1

small onion, sliced

6

tablespoons

vegetable oil, divided

2

canned chipotle peppers

1

teaspoon

ground cinnamon

1/4 teaspoon

ground cloves

1/2 teaspoon

ground allspice

3

tablespoons

cocoa powder

salt
Ribs
1/4 cup

dry red wine

3

tablespoons

minced garlic

2

tablespoons

cumin seeds, toasted and ground

2

tablespoons

dried Mexican oregano leaves

2

tablespoons

ancho chili powder

1

tablespoon

salt

5

pounds

beef short ribs

Salt and freshly cracked pepper

1/4 cup

all-purpose flour

1/4 cup

olive oil

1

medium onion, coarsely chopped

1

medium carrot, coarsely chopped

1

celery stalk, coarsely chopped

2

tablespoons

tomato paste

6

parsley sprigs, chopped

4

cups

chicken broth

3/4 cup

Smokey Raisin Mole (See recipe)

Chopped cilantro; for garnish

Toasted sesame seeds; for garnish
PROCEDURE
Smoky Raisin Mole
One day ahead, prepare mole sauce and marinate ribs as follows:
Wipe dried chiles with damp cloth. Discard stems and remove seeds. Heat griddle or sautépan and toast negro and ancho chiles by pressing them onto the hot pan with a folded towel, about 10 to 15 seconds, until mottled and aromatic. Do not blacken. Turn into large bowl and cover with warm water; soften about 20 minutes. Meanwhile, combine raisins and port in small saucepan; bring to simmer. Remove from heat and let stand for 30 minutes. Toast almonds and bread in oven at 350°F until golden brown, about 8 to 10 minutes. In dry pan over low heat, toast garlic until slightly blackened and soft; cool and peel. Roast tomatoes under broiler until blackened and soft; cool and peel. Sauté onion in 2 tablespoons oil until translucent and well caramelized; set aside.
Drain negro and ancho chiles, reserving liquid, peel and place in blender with raisins and remaining wine, almonds, bread, garlic, tomatoes, onion, chipotles, spices and cocoa. Process, adding liquid from chiles, as needed, to thin mixture, 3 to 4 minutes, until paste is thick and smooth. In 6-quart saucepot over high heat, heat remaining oil to smoking, add chile paste all at once. Stir constantly over high heat and sear mixture until it darkens and cook until semi-solid paste.
Ribs
In mixing bowl, mix first 6 ingredients together. Add ribs and toss to coat. Turn all into plastic bag and let stand in refrigerator overnight.
Next day, preheat oven to 300°F.
Reserving marinade, remove ribs and pat dry with paper towels. Season generously with salt and freshly cracked peper; dredge in flour, shaking to remove excess. In large casserole or Dutch oven, heat oil and brown ribs on all sides; remove and set aside. Drain and discard all but 2 tablespoons of oil from pan. Return to heat and add onions and carrots, stirring briskly until browned. Add celery and cook a few minutes more. Stir in tomato paste and cook, about 2 minutes, stirring constantly. Add reserved marinade, parsley and chicken broth. Heat to boiling; add ribs and cover tightly. Place in oven at 300°F for 2 to 2 1/2 hours. When tender, remove ribs and keep warm. Strain cooking liquid into a medium saucepan. Heat to simmer and skim fat. Add 3/4 cup mole paste, whisking until smooth. Adjust consistency of sauce by reducing if too thin or adding water if too thick. Return ribs to sauce and heat gently.
Divide and arrange ribs on individual serving plates. Spoon sauce over. Garnish with chopped cilantro and toasted sesame seeds. Serve hot.Note: Any leftover mole sauce can be refrigerated or frozen for later use.
Nutrition Facts Per Serving
Calories 860 (52% from fat); Total Fat 50g (sat 16g, mono 23g, poly 4g, trans 2g ); Cholesterol 175mg; Protein 64g; Carbohydrate 34g; (Dietary Fiber 7g; Sugars 15g; ); Iron 10mg; Sodium 1100mg; Calcium 88mg; Potassium 1305mg
This recipe is found in the following categories:
(No Ratings Yet)
Loading...
Comment on the Recipe
Comments may be moderated. If you don't see your comment, please be patient. It may be posted soon. Do not post your comment a second time. Thank you.