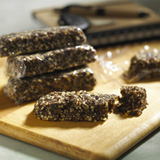 Research* shows that eating raisins combined with walking may reduce the risk of cardiovascular disease in 50 to 70 year-old men and postmenopausal women. How? Raisins plus walking decrease low-density lipoprotein (LDL) cholesterol or "bad cholesterol" levels in the bloodstream.
This is why California Raisins has partnered with founder of the Walk at Home fitness program and walking expert Leslie Sansone.
"I believe that staying fit doesn't need to be expensive or intimidating. That's why raisins and walking are such a perfect match – both fit this criteria," says Leslie. "Did you know that raisins cost less than 20 cents per ounce and contain fiber, antioxidants and potassium? And they're so easy to incorporate into your diet, whether eaten alone, used as a topping on cereal or yogurt, or as a convenient post-walk snack."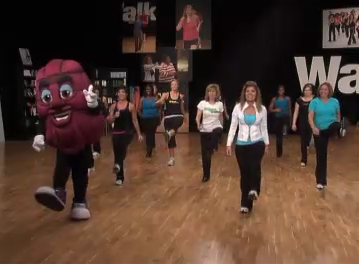 Leslie, who has been teaching walking for fitness for more than 27 years, took the California Raisin Mascot through the paces of the Walk at Home program in a special new Web video.  In the video, she also demonstrates making a batch of California Raisin Grab n' Go Energy Bars, an ideal snack for a pre-walk energy boost!
*The study by researchers at the University of Connecticut was completed in February 2009 and published in the journal Metabolism: Clinical and Experimental. Researchers found that walking and daily consumption of raisins (1 cup) decreased low density lipoprotein (LDL) cholesterol levels in the blood stream. Survey participants included 50 to 70 year-old men and postmenopausal women. The research was funded by the California Raisin Marketing Board.