Raisin Health Benefits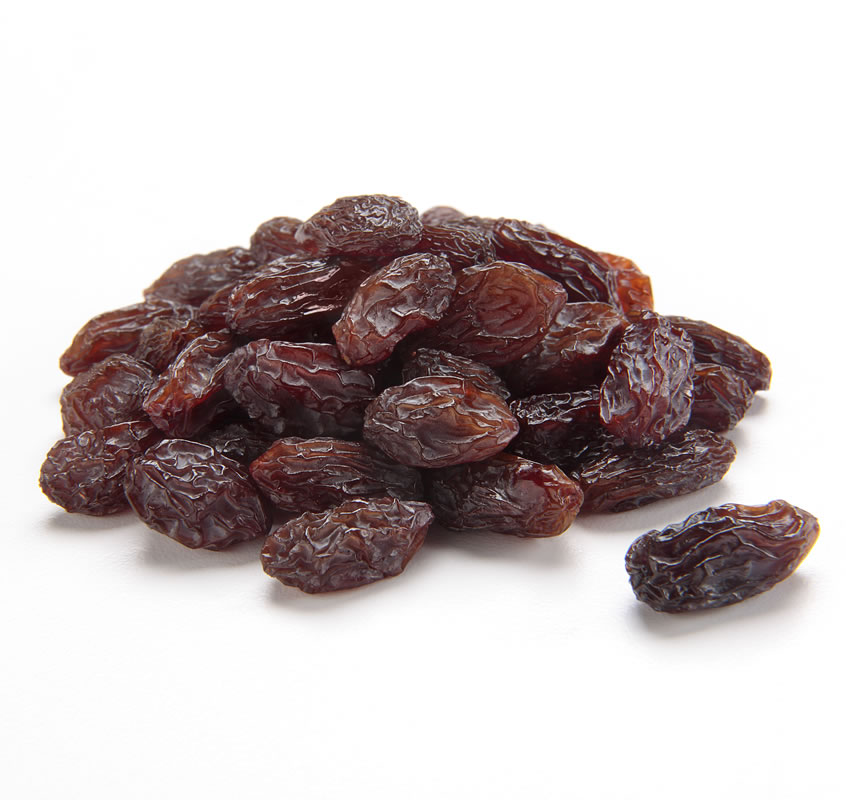 In a 2011 focus group study of 46 mothers with children in the home, conducted in Chicago, Seattle and Sacramento, it was encouraging that every person could name at least one healthy attribute of California Raisins. The most commonly cited health benefits were that raisins are fat and cholesterol free, high in antioxidants, contain sugars of fructose and glucose for sustained energy, are a good source of potassium, iron and dietary fiber and virtually sodium free.  All the moms lamented the fact that it was very difficult to find a good tasting snack that was fruit or vegetable-based, was reasonably priced and provided good nutrition while also appealing to their kid's sweet tooth.  California Raisins were the perfect fit for these moms.
With the introduction of the new MyPlate food guide from the United States Department of Agriculture, the U.S. government is encouraging families to make half of their daily plates consist of fruits and vegetables.  Nutrition professionals such as Liz Ward of Boston are also singing the praise of California Raisins.  U.S.A. Today and Men's Health magazine asked Ms. Ward this question, 'what's the single best fruit you can eat'? Ms. Ward responded, "Raisins. They are full of fiber, potassium and antioxidants. They are also portable, available year round, are good for boosting energy and they may help with weight control." – Elizabeth M. Ward, M.S., R.D., Nutritionist/Author and valued contributor to the California Raisins' Super RD Network.
With the rising concern over obesity and Type 2 diabetes among all age groups, the California Raisin industry is doing its part to to improve the situation via research on healthy snacking.  Listed below are the results of two studies completed in 2011.  One study shows that when raisins were consumed as a pre-meal snack instead of other popular packaged items, overall caloric intake went down.  And another study shows that when raisins were consumed instead of other packaged snacks, the postprandial blood glucose went down as did the diastolic blood pressure of those tested.  The studies are summarized below:
I. Satiety: A pre-meal raisin snack increases satiety and lowers cumulative food intake in normal weight children – University of Toronto- Dr. Harvey Anderson
Childhood obesity is a national concern. One of the key recommendations in the dietary guidelines is to control total calorie intake to manage body weight in populations including children. The purpose of the Toronto study was to determine the effect of  pre-meal snacks of raisins, a mix of raisin and almonds, grapes or no snack on pre-meal energy intake, energy intake at a lunch meal 30 minutes later and cumulative energy intake (snacks plus lunch meal). This study also assessed satiety following snack consumption and meal consumption.  The results showed that after the raisin snack, children consumed about 21% less pizza compared with other snacks.  The total calories received from the snack and lunch meal were lower after raisins compared to other snacks. Another experiment showed that calorie intake from an afterschool snack was lowest for raisins compared to snacks of cookies or chips.  Children consumed about 1.5 times more calories with grapes or potato chips and double the calories for chocolate chip cookies compared to a snack of raisins.  When the total calories consumed during a day were compared the lowest cumulative calorie intake was when raisins were provided as an after school snack.
II. Heart Disease: A Randomized, un-blinded, single research site, comparator study of raisins versus alternative snacks on cardiovascular risk factors in generally healthy subjects – LMARC research center – Louisville KY – Dr. Harold Bays.
Although obesity is related to many chronic health conditions, it is not the only lifestyle-related public health problem confronting the Nation. Eating pat­terns that are high in calories, but low in nutrients can leave a person overweight but malnourished. Nutritionally unbalanced diets can negatively affect a person's health regardless of weight status. Such diets are related to many of the most common and costly health problems in the United States, particularly heart disease and its risk factors and type 2 diabetes. The effect of raisins on Heart health has also been studied in comparison to other snacks. Raisins were served three times per day versus alternative snacks three times per day and the effect on cardiovascular risk factors was assessed.  The results showed that participants had significantly reduced postprandial glucose, hemoglobin A1C, systolic and diastolic blood pressure, and mean waste circumference when consuming raisins compared to other snacks.
And, research has shown that compounds in raisins inhibit the growth of bacteria in the mouth that cause gingivitis and tooth decay. Those tantalizing little gems of good nutrition provide carbohydrates in the form of natural sugars – fructose and glucose – with a low to moderate glycemic index for prolonged endurance during sports and other physical activities. Along with a wealth of antioxidants and some fiber, California Raisins can have a lasting impact on the health of every member of the family. Choose wisely! Make California Raisins a part of your daily healthy food habit!