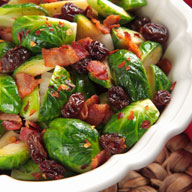 There is a convenient and naturally sweet snack that's perfect to help you get your daily intake of fruits – California Raisins! They're nature's perfectly portable fruit.
The 2015 Dietary Guidelines for Americans recommend 8 to 13 servings of fruits and vegetables daily. Interestingly, many people don't think of raisins and other dried fruits when they are asked to name fruits. Too bad…because ¼ cup of California Raisins equals one fruit serving and is such an easy way to help meet the recommended daily fruit servings.
California Raisins are economical, ready to eat, never bruise and easy to grab – no washing, peeling or chopping required. A package of California Raisins fits perfectly in a purse or briefcase for those extended time periods without a meal. They also conveniently fit in lunch boxes, gym bags, and in your desk drawer.
California Raisins are a Natural, Healthy Food Choice:
They're fat and cholesterol free.
They deliver potassium and dietary fiber.
They may help prevent dental caries by reducing cavity-causing bacteria.
They contain natural sugars which are a good source of energy.
Eating adequate fruit servings is associated with reduced risk of heart disease and cancer.