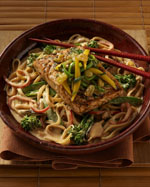 Whether used for their surprising flavor or to enhance and balance existing flavors of a dish, California Raisins are a great way to contribute taste in unexpected ways. When added to a dish that is traditionally simmered and/or pureed, such as a stew or sauce, California Raisins often take on a whole new flavor profile. Chefs are adding raisins and raisin products (raisin paste and raisin juice concentrate) to sauces, glazes, stir-frys, chutneys, and salsas to bring uniqueness and appeal to their dishes.
Raisins also have earned their place in such comfort foods like cheeseburgers, ice cream, French toast, scones, muffins, artisan and whole grain breads and rolls, as well as with oatmeal and dry cereals, and muesli. California Raisins are also finding their way into wraps and healthy snack bars, savory sauces, fruitful finishes, and Latin libations.
Raisins have a great emulsifying quality when added to vinaigrettes and can exhibit a rich earthiness that adds surprising character and depth to dishes that might include ancho or guajillo chile peppers. These are just a few examples of the creative ways California Raisins add that unexpected flare to your guests' favorite dishes.
In whatever way they are used, sun-sweetened, all natural California Raisins are always a Wise Choice in the kitchen.