Plan Ahead For Happy Holiday Meals
The best – and, perhaps the toughest – part of the holidays is all that good food just waiting around every corner. Here are some ways to enjoy it and eat healthy, too.
Plan ahead and don't go to Thanksgiving dinner hungry. You are more likely to eat too fast and way too much. Have a good breakfast, and lunch if dinner is later. A light snack before dinner will do wonders, too.
Dial back the thought that dinner is an all-you-can-eat buffet! Smaller portions, eating slowly, and relishing everything on your plate will not encourage going back for seconds and thirds.
Don't eat the skin with the turkey to reduce your fat and cholesterol intake.
Drink plenty of water before, during and after the meal. It aids digestion and keeps you hydrated.
Most of all watch the size of those portions! Smaller portions allow you to enjoy more dishes without overeating. Look at it this way, and help yourself to portions like these:
Fruits and vegetables, about the size of a baseball – not a softball!
Meat, fish or poultry, a piece the size of a deck of cards or the palm of your hand
Baked potato, should look like your computer mouse
A serving of cheese, not larger than 6 dice stacked together
You should be able to cup a serving of cooked grain or pasta in the palm of your hand.
Some pre-Thanksgiving practice with yummy dishes like Bean Salad with Artichokes, No-Fuss Fish, or Honey-Mustard Chicken and Pasta Salad might pay big dividends for the whole family on Thanksgiving Day.
If Thanksgiving Is at Your House . . .
Start early and clean the main rooms a little each day. Fifteen minute increments will get it done in plenty of time.
Forget that make-everything- from-scratch mentality. Select a few homemade favorites that your family loves, and bring on the convenience foods.
When anyone offers to help, say, "YES!" Cut green beans, set the table, stir something, sweep the kitchen – every little bit helps and the possibilities are endless.
Stuff two small turkeys instead of a large one. They take less time to cook and you have more time to enjoy your guests.
Do your guests a favor and set the table with smaller plates. Servings can be smaller and your guests will be happier.
For a Thanksgiving to Remember
Thank the Pilgrims and count your blessings while you let California Raisins dance their way into your Thanksgiving Day dinner. Start with a unique hors d'oeuvre, like Spicy California Raisin-Pumpkin Caponata, and stuff the turkey with Winter Harvest Stuffing.
Shake things up and add pizzazz to your holiday table with brightly colored Raisin Saffron Basmati Rice Pilaf (Zaffran Kismis Pullao), our Recipe of the Month. Add a veggie like Roasted Asparagus with Balsamic Brown Butter and Raisins and your menu is done.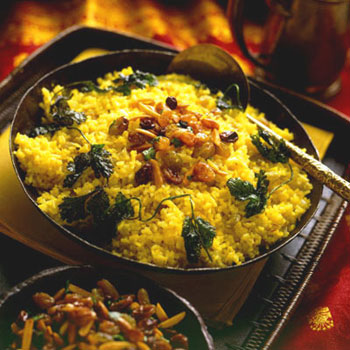 Pies! Pies! And More Pies!
Thanksgiving Dinner is all about the pie. Pumpkin, sour cream, chocolate, single or double crust, tarts and cobblers – all say, "Time to give thanks and gather the family and friends together to enjoy a special meal."
It wouldn't be Thanksgiving without pumpkin. So, spicy raisin-pumpkin custard topped with gingersnap streusel in the Pumpkin Pie Surprise would be a good choice while Raisin and Apple Strudel Pie brings the flavors of the fall harvest to the table.
Raisin and Dried Cranberry Pie reminds us that cranberries are in season, again, and Chocolate Raisin Walnut Pie will tantalize all those chocolate-raisin lovers in the group.
Perhaps, all your guests would be tempted by something with nuts like California Nuggets of Gold Raisin Pie or California Raisin and Maple Crunch Pie.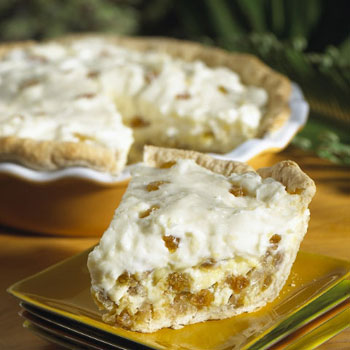 Other Celebrations in November
Clean Out Your Refrigerator Day
Set November 15 aside to get that job out of the way before the first big holiday of the season! To use up the leftovers, add some seasonal flavors and use a couple of bags of greens and ripe persimmons in Fall Greens and Winter Fruits with Golden Raisins. Make a warm, hearty stew and clean out the vegetable drawer with Moroccan Vegetable Ragout with California Raisins. Or Carrot Vichyssoise with Raisins will take care of those wilted carrots in a tasty way.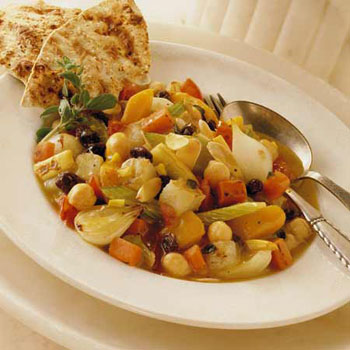 Best Thing Since Sliced Bread!
Homemade Bread Day is November 17. So, break out your bread machine or turn on the oven and get creative! A traditional approach to homemade bread with Zucchini Raisin Nut Bread serves up warm with breakfast coffee or Raisin Ploughman's Loaf, flavored with dry mustard powder, cheese, mango chutney and scallions brings a unique, tantalizing treat to the dinner table. Quick breads more your style? Pumpkin Spice Muffins just can't be beat this season of the year.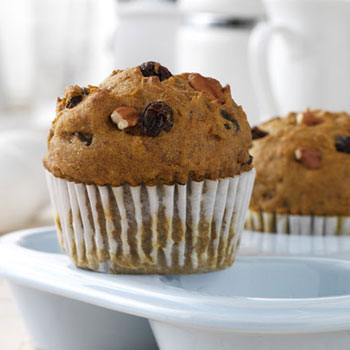 Remember California Raisins bring a lot of possibilities to your holiday table. Eat, drink and have fun, but make the Wise Choice with California Raisins, every time.
RECIPES in this Newsletter
Plan Ahead for Happy Holiday Meals
For A Thanksgiving To Remember
Pies! Pies! And More Pies!
Clean Out Your Refrigerator Day
Best Thing Since Sliced Bread!