Farm to Fork: Back to the Basics
The way we eat contributes to how the resources of the world are used. There is much confusion about a diet that is both good for us and good for the planet. Food that is healthiest for us – whole, fresh and unprocessed – is also the healthiest for the earth. These foods are produced using methods that strive to maintain and enhance our natural resources (water, air, soil, energy). This is where the term "sustainable" comes into play.
As consumers, we have a say-so in the marketplace. Our spending creates leverage.  What are some simple choices we can make to improve the diets of our loved ones and the state of our planet?
Eat whole foods. Many processed foods are stripped of their nutrients and pumped with preservatives to maximize shelf life, mouth feel and taste and to minimize preparation time. Over consumption of these highly processed foods is being blamed for the over 60% of Americans considered to be overweight or obese. These kinds of foods should be limited. So, stock your pantry with fresh and dried fruits, like California raisins, veggies, whole grains, and nuts.
Variety! Eat a rainbow of colors. The best way to have a nutritious diet is to eat a variety of different foods from all of the food groups. Our food production industry utilizes only 15 to 30 different species of plants. The average American consumes about 60% of their daily calories from corn, wheat or rice. The Slow Food Movement is encouraging the cultivation of endangered food species such as heirloom veggies (they've stood the test of time); ancient grains and rare livestock breeds.
Minimize waste. To-go food containers, plastic cutlery, plastic bags, etc. These all create tons of waste for the planet. Look for recycled products. With the consumer voice that you have, vote for brands and companies that recycle. Buy from bulk bins. Re-use bags. Purchase reusable drink containers and use them time and time again.
Cook and eat at home. Start with fresh, whole foods. When cooking at home, you have the most control over what goes into the bodies of you and your family. Find fast and easy recipes. Cook simply and cheaply.
For a change, go for an all veggie a meal with Salad of Tofu, Celery, Granny Smith Apples and Golden Raisins – fried tofu and celery with a zesty dressing to top this salad. Put together a sweet and savory side dish, Raisin-Apple Stuffed Squash, for dinner at home tonight. Try an ancient grain in Mediterranean Quinoa Salad, and see if the Mediterranean flair will make this dish a family favorite.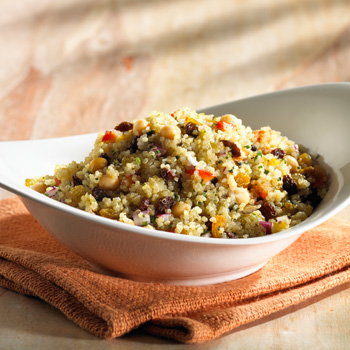 Homemade with Love
Giving is better than receiving. This December, bake and create your gifts at home. Nothing is better than something homemade with love. Increase the love you give and save money, too, with the gifts you give.
Make a batch or two of tangy chutney, like Cranberry Raisin Chutney, or a sweet caramel sauce, like California Caramel-Raisin Sauce. Package in fancy jars for a beautiful presentation.
Pair homemade Ginger Raisin Biscotti with a friend's favorite gourmet coffee and you've got yourself a uniquely wonderful gift.
The Recipe of the Month, Quick and Easy Honey-Wheat Hot Cross Buns are flavored with honey and cinnamon and drizzled with icing. What a perfect gift. That could easily be a friend's special Christmas morning breakfast. Get creative in the kitchen this year!
National Pastry Day
December is a perfect month for this holiday. On December 9, celebrate all the complexity and simplicity of the world of pastries. Try your own! Dig up Grandma's renowned pastry recipe. Bring the kids into the kitchen. Let your spouse taste test. Whip up this simple, 5 ingredient recipe: Quick Raisin-filled Pastry. Pineapple jam and raisins fill this not-so-simple-looking pastry.
Hazelnut crisps, shortbread, and a rum raisin mixture…interested? California Rum Raisin Tarts are definitely drool-worthy. Small in size, big in flavor, Orange Blossom Raisin Tarts are fun and effortless to make.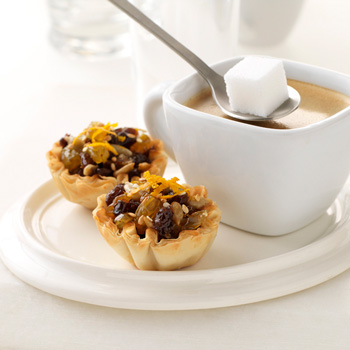 Christmas
Young and old alike, the Christmas season brings a spirit of warmth, giving, and love; excites youngsters and brings smiles to adults; time to surround yourself with family and friends. It wouldn't be Christmas without Gingerbread Men, from the time of Queen Elizabeth I. For a special Christmas breakfast, Cinnamon Ring is a sweet choice. For Christmas dinner, Fragrant Roast Pork with Five Spice Relish needs less cooking time than turkey and is sure to please. Adult guests will enjoy, Fireside Glogg, a warm drink to sip on all evening long.
Kwanzaa
The day after Christmas marks the beginning of a relatively new, only 40 year old, holiday. Kwanzaa, a week long celebration, was created as a reaffirmation of the African-American culture highlighting the principles of unity, self-determination, collective work/responsibility, cooperative economics, purpose, creativity and faith. A good way to celebrate the holiday, whether African-American or not, would be to enjoy recipes like North African Braised Chicken, Sweet Plantain and California Raisin Soup with Saffron, Raisin Chorizo and Chile Cornbread Bubble to embody the "first fruits of the harvest" meaning of the traditional African language Kwanzaa.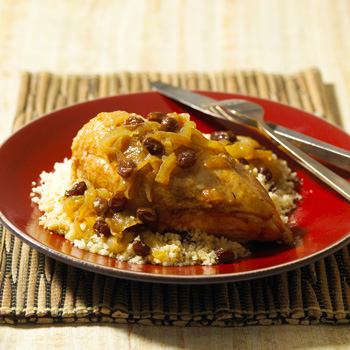 A Brand New Year
A new year brings about a chance for new beginnings and new goals. It is an exciting time that involves friends and family. Bring family and friends together and impress them with these tasty appetizers and treats like California Raisin-Walnut Wontons with Goat Cheese and Honey-Mustard Dipping Sauce. They'll love this crispy, flavorful appetizer.
For dessert serve Irresistible Cheesecake Parfait in tall, stemmed glasses for an unforgettable party treat.
Honey Raisin Mojito is a fun recipe to include at any New Year's Eve party. Bubbly and presented attractively, your adult guests or fellow partygoers will be impressed.
Remember California Raisins bring a lot of possibilities to your holiday table. Eat, drink and have fun, but make the Wise Choice with California Raisins, every time.
RECIPES in this Newsletter:
Farm to Fork: Back to the Basics
Homemade with Love
National Pastry Day
Christmas
Kwanzaa
A Brand New Year